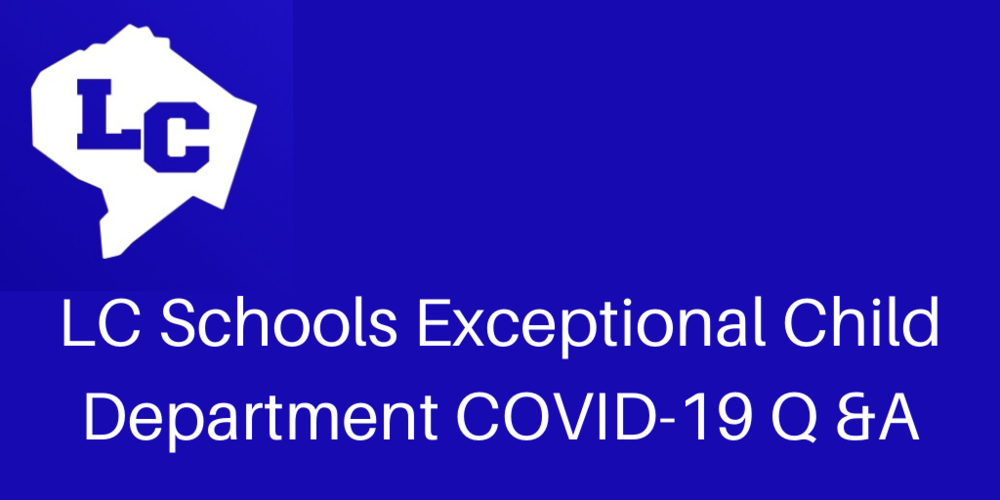 LC Schools EC Department COVID-19 Q & A
Exceptional Child Department
Friday, July 24, 2020
Dear Parents of Lincoln County Exceptional Children,
We know that you are facing the difficult decision of whether to send your child back to in-person instruction or to start your student in our Patriot Learning Academy. With that in mind, we hope that this question and answer document can assist you in making this decision.
Is there going to be a place for students to take sensory breaks from masks?
Yes, when students are more than six feet away from peers their masks will not be required. Our teachers will also be very observant of students that may need a sensory break from their masks, and if needed will take students to an area where they can effectively social distance and remove their masks.
My child will not wear a mask, what options do we have?
We understand that wearing a mask is new for all, and for many students it is not a preferred activity. Our teachers will be teaching many lessons on the importance of wearing a mask, giving many reminders, and assisting students in learning to wear their mask. We will teach learning to wear a mask everyday much like we teach the subjects of reading and math.
**If your child has a medical condition that makes wearing a mask against his/her doctor's advice, please contact your child's Exceptional Child teacher.
Will there be room for a calm down area?
If a student needs a place to sit quietly in a socially distanced area, our staff will provide this. There will also be an opportunity for your child to talk with an adult about their anxiety if needed.
Will my child be isolated or allowed to go to the classroom if I choose the in-person option?
Your child will follow his/her schedule as determined by the IEP. The child will have the opportunity for co-teaching, resource or a blend of both models if that is what the IEP reflects. If your child has a fever of 100.4 or higher, then other protocols will be followed to meet local and CDC guidelines.
Will my child be grouped with other kids to receive their IEP services?
Yes, it is possible that your child could be placed in small group for direct special education services. During these small group sessions appropriate social distancing will be followed when possible, or your student will be wearing a mask. Frequent hand washing will take place, and all other CDC and local safety recommendations will be followed.
Will my student be pulled out of class for services?
Direct services will continue as determined by the IEP.
If we choose the Patriot Academy will their IEP's be delivered in the same manner as in the school class room?
No, the exact manner of delivery of instruction using virtual means will be a little different than with face-to-face instruction. Our Exceptional Child staff members will do their absolute best to provide similar activities and opportunities to those that choose the Patriot Academy, but there will be differences.
If I choose the Patriot Academy for my student will they get extra time and help?
Our Exceptional Child staff will work tirelessly to provide your child with the needed time and help to make his/her successful. But there are differences in on-line learning and in- person learning that you must consider. Such as: will my student tolerate sitting in front of a computer and receiving instruction from a teacher on line? Am I, as the parent, able to help my student attend to the on-line learning sessions?
Do I have adequate internet access for my child to be able to log on and watch videos or attend Zoom sessions with their teachers or therapists?
If I choose the Patriot Academy will my child get the same services?
IEPs will be followed and your child will receive comparable services in a manner comparable to what he/she received in the school classrooms. Our Exceptional Child Teachers will work to ensure that your student gets the best services possible for on-line instruction. The delivery mode of the content will be different, therefore your child's progress could be different.
For example, if your student typically works with manipulatives when doing math problems at school using manipulatives in an on-line platform that may not be possible.
Another example, if your student uses an organizational tool such as a "First we do……. Then we do……, " and each of those statements are paired with a picture of the student doing the activity, using this type of method does not lend itself to being used at home
We would send these tools home so you can recreate this method, but school staff will not be able to ensure that it was practiced and followed through by the student,this may require the help of an adult to support the learning at home.
Will my student get reprimanded for tearing his mask off at inappropriate times?
Your student will be reminded multiple times to put their mask back on. If leaving the room for a cool down time in a socially distanced place is needed, then that will be offered. Staff will use this as a teachable moment to help your child ask for a break (if needed).
Will my student receive his/her related services (speech, occupational therapy, physical therapy) if we choose the Patriot Academy?
We will continue to offer Telehealth services for our students who receive speech therapy, occupational therapy, and physical therapy for those students in the Patriot Academy.
Will Zoom be used as part of the Patriot Academy?
Zoom, Google Meets, Loom, Microsoft Teams, and other virtual platforms will be used to support student learning. LCHS will also be Live Streaming classes as well.
My student has a low reading ability and she needs a reader for most lessons, which would be best for her?
This is a parent decision. Both options are available for your student. The Patriot Academy requires a strong internet connection that will allow your student to access the text-reader software that isncluded in the school issued Chromebook. By using the text reader software from the Chromebook having text read to your student is possible.
What options do I have if my child has complex medical needs, severe cognitive and academic needs?
As a parent you still have the options of in- person instruction or participating in the Patriot Learning Academy. Most likely your student receives a high level of direct specially designed instruction and related services, Our exceptional child teachers and therapists will do the best job possible to create that level of instruction via electronic means. Our teachers of moderate to severe disabilities, and our therapists will be delivering daily instruction through digital means for a period of time. It will not be 6 hours of direct instruction from a special education teacher. It is important to consider the extent to which your child can participate in these online activities.
Will my exceptional child have the opportunity to make up any missed therapy sessions due to COVID 19?
As previously mentioned we are offering Telehealth via Zoom for speech, occupational and physical therapy. If you choose the Patriot Learning Academy, then your option for services will be through Telehealth. If you are unable to attend a Telehealth session, then that session will not be made up.
Will my child make academic and/or behavioral progress on his/her goals if I choose the Patriot Academy?
Every student learns differently, so it is unknown how much your exceptional student will progress using this on-line method.
Will my exceptional child receive any type of 'make up' services once we return to a typical school day?
The IEP team will meet to determine the progress your student has made and whether additional or compensatory services are needed for your student.