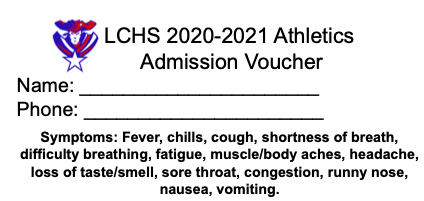 Lincoln County Athletics 'Segment One' Game Day Procedures & Admissions Protocol
LC Schools
Tuesday, September 01, 2020
STANFORD, KY – September 1, 2020

Lincoln County Athletics has announced its plan for game day procedures and admissions protocol for high school and middle school sporting events that occur during segment one (September 7th through September 26th). The plan was devised using the Kentucky High School Athletics Association (KHSAA) guidance document for schools and has been approved by the Lincoln County Health Department.

The plan will allow for student athletes and coaches to receive 4 vouchers to be used by immediate family members to attend sporting events. All fans attending in-person events will be required to wear a mask or face covering at all times while on campus. Before entering the event, attendees will have their temperature checked and will be screened for symptoms. You may read the full list of procedures and protocols below:
Masks/face coverings must be worn at all times, inside and outside, while on the campus of LCHS and LCMS.
Temperatures will be checked and symptoms will be screened before proceeding to the ticket booth.
There will be no general admission during this segment.
Each competitor and coach will receive 4 "vouchers" (see photo) to be given to family members.
Spectators will present the voucher at the screening site before proceeding to the ticket booth. Once screened they may proceed to ticket booth.
Adult tickets are $5.00. Students in K-5th grade will be admitted free, but will still need a voucher. The exact amount of money is preferred when paying.
No passes of any type will be accepted during this segment.
Locker rooms are to be used by fewer than 10 at a time and only for changing of clothes/uniforms.
Each competitor will be responsible for their own hydration. No sharing of water bottles will be permitted.
Concessions may be sold, but ALL items must be pre-packaged before the sale. Hotdogs, hamburgers, popcorn, etc. may be sold as long as they are prepared ahead of time and pre-packaged.
"We know this is far from ideal," said Athletic Director Tim Estes. "But, during this first segment at least the essential spectators (family members) will get to attend the games in-person. This continues to be a fluid situation and we will continue to monitor and make changes as necessary. Our goal right now is to follow the guidelines given to us by the state and we feel like this segment one plan we are putting in place will allow for our student athletes to safely compete."
Each high school and middle school team competing in fall athletics will be allotted their vouchers by Athletic Director Tim Estes. Estes will also be sending visiting schools the vouchers to distribute as needed.
"Limiting the capacity and knowing specifically who is in attendance was something we (Lincoln County Schools and the Lincoln County Health Department) felt was extremely important. It gives us a chance to phase things in slowly to see if it's going to work and allows us to do contact tracing if need be," explained Estes. Please contact Athletic Director Tim Estes with any questions or concerns via email at tim.estes@lincoln.kyschools.us.
-LCAthletics-