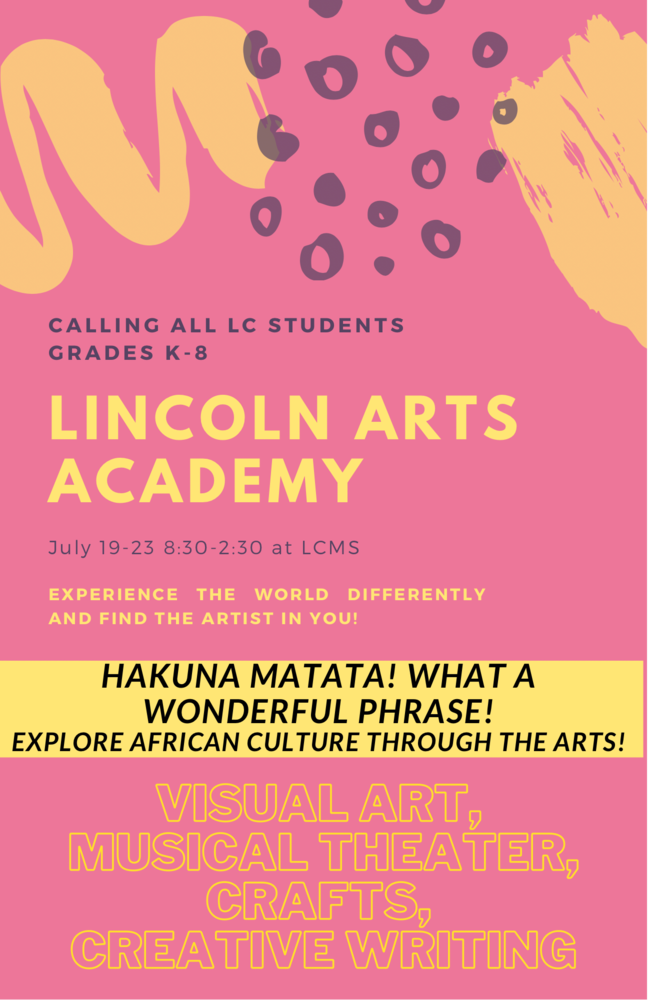 Lincoln Arts Academy (July 19-23) Info and Application
LC Schools
Tuesday, May 04, 2021
HAKUNA MATATA! What a wonderful phrase!!
Join us this summer as we explore many different aspects of African culture through the ARTS! We will be utilizing themes from Disney's, "The Lion King" to guide our instruction during this exciting week of visual art, musical performance, drama, creative writing, and crafts! We will study Swahili, make musical instruments, create African masks, write creative poetry, explore tribal dance, embody safari animals, sing like beautiful birds and SO MUCH MORE!! You will not want to miss it!
All K-8 students enrolled in Lincoln County Schools during the 2020-2021 school year are eligible to apply and participate if selected. Application is due no later than Wednesday May 12, 2021 at 3:00 pm. BECAUSE OF THE POTENTIAL FOR INTEREST AND LIMITED NUMBER OF SPOTS- NO EXCEPTIONS WILL BE MADE TO THIS DEADLINE. Applications will be accepted via GOOGLE only. Applications will be reviewed and Lincoln Arts Academy participants will be named (via email) by May 26, 2021.
Non-Discrimination Notice:
The Lincoln County Board of Education does not discriminate on the basis of race, color, national origin, sex, genetic information, disability, religion, marital status, or age in its programs and activities and provides equal access to its facilitates to the Boy Scouts and other designated youth groups.

The following have been designated to handle inquiries regarding nondiscrimination under Title IX and Section 504 of the Rehabilitation Act of 1973: Dreama Tomlison, Title IX Coordinator, or Claudia Godbey, Section 504 Coordinator, 305 Danville Ave., Stanford, KY 40484, (606) 365-2124.