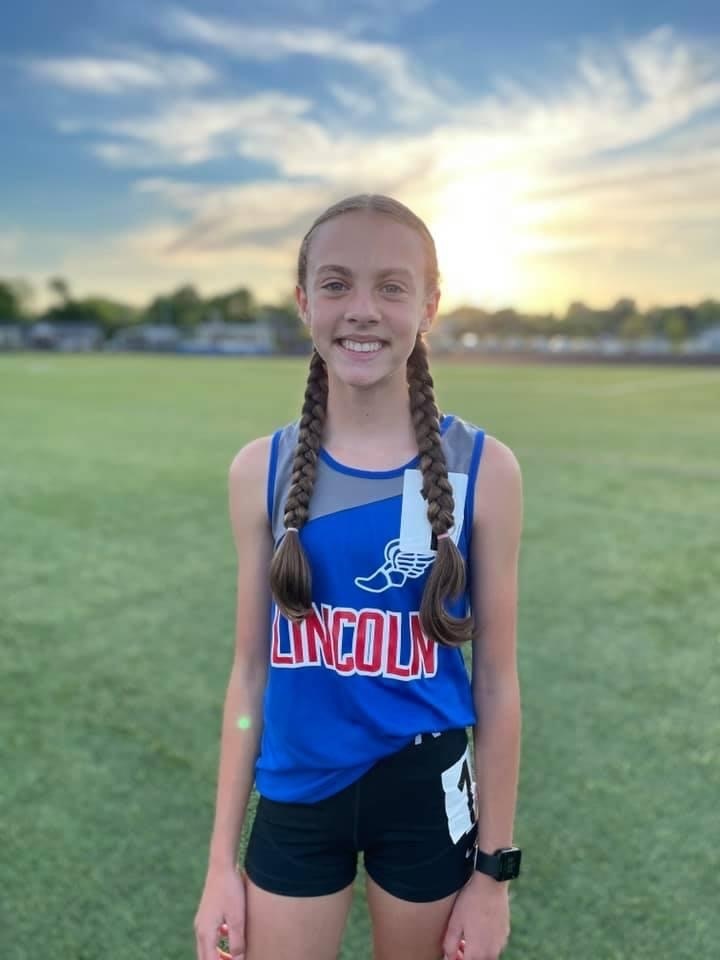 Bastin Wins the Dream Mile
LC Schools
Tuesday, May 18, 2021
Lincoln County Middle School 7th grader Abby Bastin won the Kentucky Middle School Dream Mile this past Friday night in Louisville with a time of 5:11.57. Bastin led the race, comprised of the 16 fastest middle school girls in the state, from wire to wire.
Bastin's time of 5:11.57 in the mile is the fifth fastest time in state history posted by a middle school girl. She is ranked first in Kentucky for all middle school runners for both the 1600 and 800 meters and eighth in the nation for the class of 2026.
Abby's coach, Lincoln County Girls Track and Field Head Coach Missy Slone, made the trip to Louisville to watch her compete in the Dream Mile and said watching her win the race on Friday night was only just the beginning. "I am excited to see what the future holds for her," Coach Slone remarked. She also noted about Bastin's work ethic, "I have had the opportunity of coaching Abby since her track career began in elementary school. Abby is an exceptional runner who works hard on and off the track every day. When she isn't training with me and the track team, she is training off the track along side her dad."
This finish is one of many of her amazing accolades so far this season. Her times of 5:09.76 in the 1600 meters and 2:20.09 in the 800 meters ranks her third in the state for KHSAA class 2A high school rankings.
Bastin is also a standout for the cross country teams. Lincoln County High School Cross Country and Track and Field Coach Jose Pope said, "As a coach, you only get the honor of knowing these kids for such a short time. In the four years I have been Abby's coach, I've watched her become a tremendous athlete. There has never been a race or event I've put her in that she hasn't dominated. It was no surprise to me to see her win the Middle School Dream Mile. Abby has the determination to be an Olympic athlete one day."
She now holds the Lincoln County High School all time record for the fastest mile and is second all time in the 800 meters behind her teammate Lucy Singleton who holds the record.
Bastin won the Salt River Conference Championship (middle school) in the 1600 meters and 800 meters and set conference records for both events on May 10th of this year.
She currently holds meet records for:
Danville All comers- 800 meters
Lincoln All comers- 1600 and 800 meters
Patriot Games - 1600 meters
"All I can say is if you get the chance to watch her run, do not miss the opportunity. This girl not only has made a name for herself here locally, but has done so statewide now," explained Coach Pope. You can see Abby and the Lincoln County Track team compete at Lincoln County High School this Saturday at 10 am.
#TEAMLincoln
#WeAreEagles