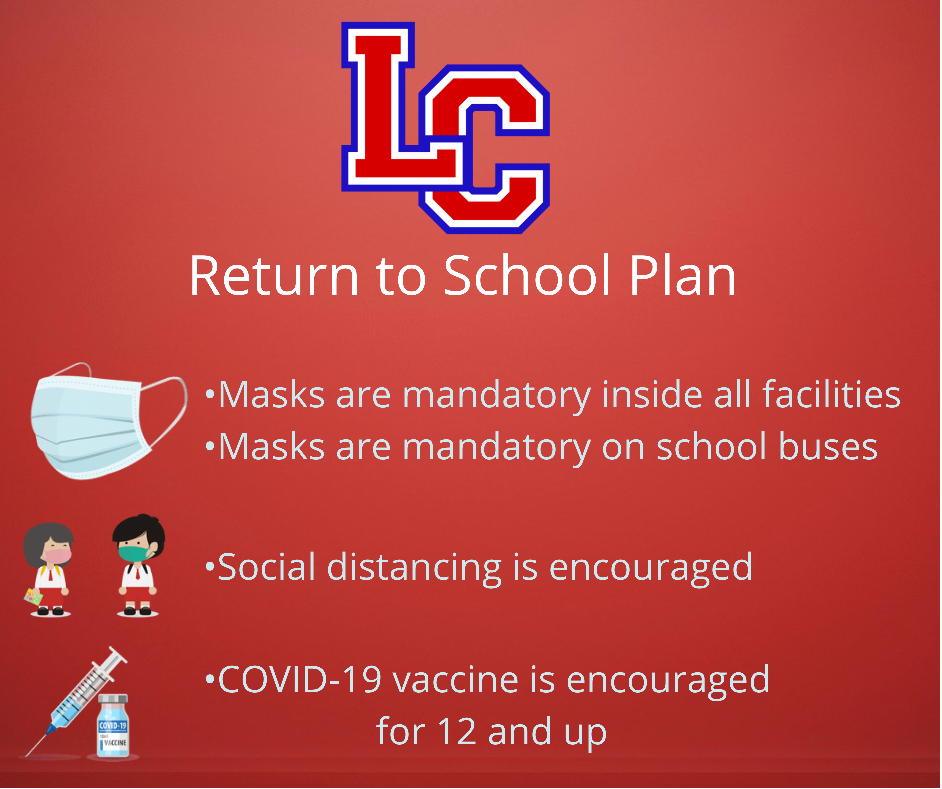 Safe Return to In-Person Instruction and Continuity of Services Plan
LC Schools
Friday, August 13, 2021
Safe Return to In-Person Instruction and Continuity of Services Plan

Lincoln County Schools is committed to providing our students a safe learning environment so they may receive a quality education. Our commitment means we will offer daily in-person learning for the 2021-22 school year. We will not close in-person instruction unless required/mandated by the Lincoln County Health Department (LCHD), Department of Public Health or the Governor.

Our plan was developed using guidance from the CDC, Department of Public Health and Kentucky Department of Education. Our plan may be revised or modified in accordance with new information provided by the Lincoln County Health Department, CDC, KDE, Department of Public Health, etc.

Learning Opportunities:

Our district is committed to offering in-person instruction for our students during the 2021-22 school year. However, we do understand that virtual learning is preferred and necessary for some families. For this reason, the Patriot Learning Academy (virtual learning) was offered to students. The deadline to register was August 20th.

Health and Safety Guidelines (Per the CDC, Kentucky Department of Public Health and the Kentucky Department of Education):

It is highly recommended (not required) that all of our staff, students (12 and up) and their families receive the COVID-19 vaccine. We fully understand that this is a personal/family decision but feel it is a vital component for us to be able to successfully offer in-person instruction. Students/staff that have been vaccinated will not be asked to quarantine unless they become symptomatic.

Masks/Face Coverings:

•Per Governor Beshear's executive order, and the recently approved emergency regulation by the Kentucky Board of Education, face masks are required for all students, staff members and visitors (ages 2 and up) while inside school buildings/facilities (unless otherwise exempted due to a disability). Masks are not required while eating or drinking. Masks should cover the nose and mouth.

Staff and students are not required to wear a mask when outdoors but may choose to do so. Masks may be removed while giving a speech or broadcast if the speaker is more than six feet away from the audience.

•Masks are required while riding a school bus. This is for all students 2 years of age and older (unless otherwise exempted due to a disability). School bus drivers do not have to wear a mask when they are the only person on the bus. Provisions will be made for students who board the bus without a mask.

Social Distancing:

•Social distancing is recommended (not mandated) for students and staff at our facilities. The recommendation is 3 feet for students and 6 feet between staff and students when possible, without changing the schedule or physical space in the school. Some situations of 3 feet may not be achievable. In those instances, like eating meals, students will be spread out as much as possible.

•This recommendation should not prevent students from socializing, working in groups or eating together. Student interaction is essential to the well-being of our staff and students and plays a big role in receiving a quality education.

Additional Prevention Strategies:

•Parents should screen their students for COVID-19 symptoms each day prior to sending them to school. Students with a temperature of 100.4 or higher should remain home.

•Extra emphasis will be placed on cleaning and maintaining facilities.

•Frequent hand washing will be encouraged.

•Water bottles are encouraged for staff and students, however water fountains will be open for use.

•Isolation will be provided for staff and students who develop symptoms at school.

•COVID-19 testing will be provided behind the Student Support Center at the Family Health Care Associates Office.
•Volunteers are currently not allowed in our school buildings. This is subject to change if local transmission of COVID-19 starts to improve.

•School nurse services will be available at all of our schools.

Positive COVID-19 Cases/Quarantine/Contact Tracing:

•Staff and students who test positive for COVID-19 should follow the isolation/quarantine directions from the school contact tracer and LCHD.

•Fully vaccinated individuals do not need to quarantine unless they are experiencing symptoms. Close contact individuals who are unvaccinated should quarantine and follow the latest quarantine protocols.
•Unvaccinated persons who have documented COVID-19 illness in the prior 3 months (with a positive COVID-19 PCR or antigen test) do not need to quarantine if they are symptom-free.

•To avoid an entire district shutdown due to a COVID-19 outbreak, specific schools may be closed to in-person instruction while others in the district remain open.

Athletics/Extracurricular Activities:

•The guidance in this document also pertains to athletics and extracurricular activities. Athletics governed by KHSAA must follow their requirements also.

KHSAA Healthy at Sports Fall Guidance

COVID-19 Tracking and Potential Plan Changes:

•The district will not track COVID data on the school website. The district will utilize the community transmission data located at: LINK

•We will continue to monitor transmission data throughout the school year and will update our plan when advised or mandated to do so by the local, state or federal government.

*You may view KDE's Guidance for K-12 School Operations for In-Person Learning here: LINK