EDIT MAIN
BETA CLUB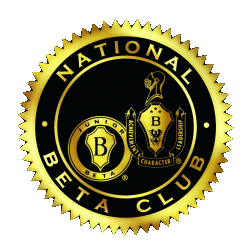 The students in the Beta Club share the mission and vision of the National Beta Club which recognizes academic achievement, promotes character, develops leadership skills, encourages service involvement, and provides technological advantages to students in grades 5 - 12. The Beta Club members are learning to lead while serving others.
This year's Beta Club has four faculty sponsors: Kim Grimes, Donya Baker, Kendra Funkhouser, and Kellie Wilson who liaises with the sixth grade sponsor. A list of new inductees can be found in the links to the right.
Please continue to support these students in their efforts to promote academic achievement, leadership, character, and service.