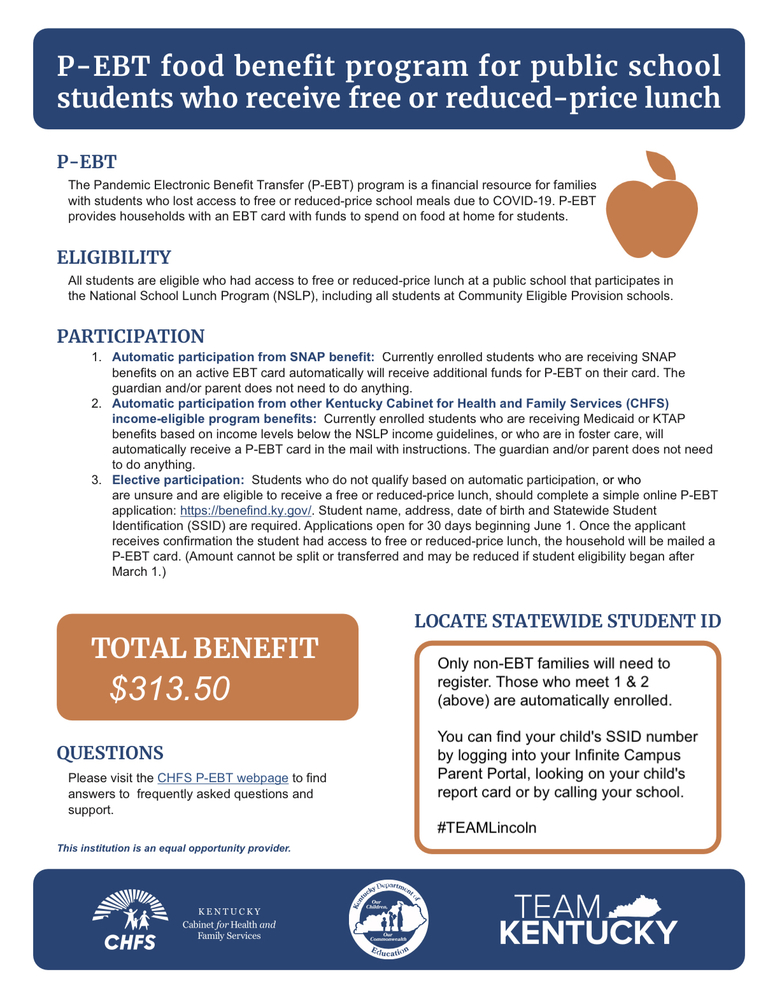 Pandemic Electronic Benefit Transfer Program
Lincoln County Schools
Friday, May 22, 2020
May 22, 2020 - The Pandemic Electronic Benefit Transfer (P-EBT) Program
School closures due to the COVID-19 state of emergency led to the loss of free and reduced-price school meals for many Kentucky children. These children now can receive help from a program jointly offered by the Cabinet for Health and Family Services and Kentucky Department of Education.
The Pandemic Electronic Benefit Transfer (P-EBT) program provides a benefits card families can use to buy food to replace free school breakfast and lunch while schools are closed. Program enrollment is automatic for children already receiving SNAP (formerly known as food stamps), TANF, Kinship Care and Medicaid.
Households with children not enrolled in these assistance programs must apply for P-EBT benefits at benefind.ky.gov. Applications will be taken from June 1, 2020 through June 30, 2020. More information can be found on the attached flyer.
Eligibility Requirements (all students are eligible to apply):
•Children who attend public or private school and are eligible for free or reduced-price school meals
•Children who attend schools that provide free meals to all students
#TEAMLincoln